Monday, April 3, 2023 at 5:00 p.m. in the Castle (in the Trove).
Grades 3-6
The second book for the GNBC has been chosen:
InvestiGATORS by John Patrick Green
Library Catalog, ebook
Registration required. Register here.
Copies of the book are on hold at the Compass desk (the Trove) to check out.
With their very exciting spy technology and their tried-and-true, toilet-based travel techniques, the InvestiGators are undercover and on the case! And on their first mission together, they have not one but two mysteries to solve! Can Mango and Brash uncover the clues, crack their cases, and corral the crooks–or will the criminals wriggle out of their grasp?

Monday, April 24, 2023 at 5:00 p.m.
in the Castle (in the Trove).
Grades 3-6
Registration required.
Register here
.
Bunnicula: the graphic novel
Library catalog
,
ebook
Though scoffed at by Harold the dog, Chester the cat tries to warn his human family that their foundling baby bunny must be a vampire. Presented in comic book format.
Here are more Graphic Novels to check out:
Cat Kid Comic Club by Dav Pilkey
Library catalog, ebook
A pioneering new graphic novel series by Dav Pilkey, the author and illustrator of the internationally bestselling Dog Man and Captain Underpants series. In Cat Kid Comic Club, Li'l Petey, Flippy, and Molly introduce twenty-one rambunctious, funny, and talented baby frogs to the art of comic making. As the story unwinds with mishaps and hilarity, readers get to see the progress, mistakes, and improvements that come with practice and persistence. Squid Kid and Katydid, Baby Frog Squad, Monster Cheese Sandwich, and Birds Flowers Trees: A Haiku Photo Comic are just some of the mini-comics that are included as stories-within-the-story, each done in a different style, utilizing humor and drama, prose and poetry, illustrated in different media including acrylics, pastels, colored pencils, felt-tip markers, clay, hand-made cardboard sculptures, photographs, pipe cleaners, construction paper collages, and cookies. Readers of all ages will be inspired to dream up their own stories and unleash their own creativity as they dive into this new graphic novel adventure from Dav Pilkey and his heartfelt, humorous, and amazing cast of characters in the Cat Kid Comic Club.

Cinderella speaks up: an untraditional graphic novel 
by Mari Bolte
Library catalog
When thirteen-year-old Kaita falls into a book, she meets Cinderella and teaches her how to speak up for herself and not let her stepmother and stepsisters treat her so unkindly.
Kraken Me Up
by Jeffrey Ebbeler
Library catalog
, 
ebook
An unusual pet wins over a crowd. There's a contest at the fair, and different children are bringing their pets in hopes of winning. The bespectacled White judge is excited about the "pretty pig" and "fine hen"—and then comes across a brown-skinned child in a yellow slicker, cheerfully holding onto a large green tentacle. "It is a… / KRAKEN!" the judge shrieks in horror as the kraken, an adorable, massive-headed green sea monster, looks abashed, enormous, emotive eyes communicating volumes. All the other children are equally afraid, so the kraken slinks off to sulk in a tiny pond. This early-reader graphic novel is well paced, going a bit into the backstory of the kraken and the child with energetic, brightly colored panels, short sentences, and simple vocabulary. The ultimate triumph—involving the kraken playing around with his own ink and the sudden regurgitation of pirates—is funny and well earned, mixing both familiar children's insecurities with off-the-wall humor and twists. The illustrations of the kraken pretending to be a spaceship or Groucho Marx are especially delightful, though the few jokes rhyming with "kraken" are a bit eye roll–y. The kraken is appealing and charming, the child is brazen and recognizable, and the overall goofiness mixed with sincerity will win over many a reluctant reader. –
Kirkus 
An ALA Graphic Novels & Comics Round Table Best Graphic Novels for Children Selection,  Named to the Little Maverick Graphic Novel Reading List,  A Junior Library Guild Gold Standard Selection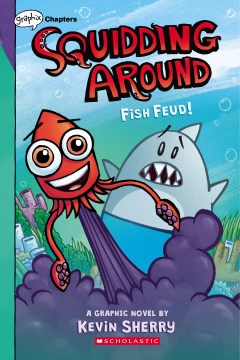 Squidding around. Fish feud.
by Kevin Sherry
Library catalog
,
ebook
Squizzard is a small squid who always wants to be the center of attention, whether it is playing with his best friend Toothy the vegetarian Great White Shark, or giving a report in school; but when his behavior finally causes a rift in their friendship, Shay the seahorse explains what he is doing wrong–but change is difficult for Squizzard and it takes an encounter with Bennie the Barracuda, the fifth-grade bully at Deep Reef Elementary, to finally teach him the error of his ways.