The White Plains Library Foundation is thrilled to welcome (virtually) award-winning author, musician, and screenwriter, James McBride to discuss his latest novel, Deacon King Kong, named one of the Top Ten Books of 2020 by the New York Times, Entertainment Weekly, and TIME magazine. Please join us on May 4th, 7:30-8:30 p.m. Click HERE to Register* and you'll receive a Zoom link unique to your email.
"Shouldn't we just get it over with and declare McBride this decade's Great American Novelist?" asked the Los Angeles Times. "McBride has a way of inflating reality to comical sizes, the better for us to see every tiny mechanism that holds unjust systems in place." NPR described the novel as "Fast, deep, complex and hilarious…a living thing that has its own rhythm, pulls you in from the first page and never lets go."
A native New Yorker, McBride is the author of the award-winning New York Times bestseller, The Color of Water. A former reporter for the Washington Post and People magazine, McBride holds a Master's in journalism from Columbia University and a B.A. from Oberlin College. In 2015, he was awarded the National Humanities Medal by President Obama "for humanizing the complexities of discussing race in America."
James McBride will be interviewed by Library Director, Brian Kenney.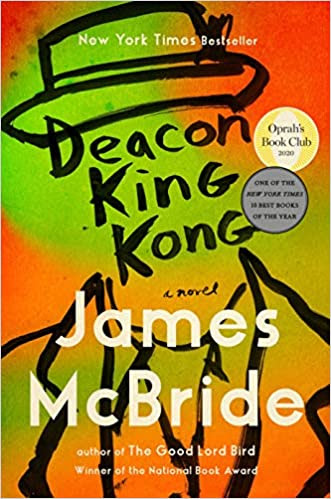 *Thanks to support from a generous donor, the Foundation would like to give you a paperback copy of Deacon King Kong. When you arrive in the lobby, tell a staff member that you're here to pick up Deacon King Kong. Happy reading!