Join us this June in celebrating Pride Month! We've got a variety of events planned this month and some exciting book recommendations below for all ages.
In addition to our events, we'll be attending Westchester Pride on June 4th, so make sure to stop by our table for Grab & Go Kits and more at the corner of Main Street and Court Street!

Events:
Grab & Go Kits: Pride Month!
Thursday, June 1st at 10:00 a.m.
For grades K-3
Location: Lobby
Pick up a new Grab & Go Kit at the Library, while supplies last, starting today. Kits will be in a bin in the Library's lobby.
Westchester Pride 2023
Sunday, June 4th, 11:30 a.m. – 5:00 p.m.
For all ages
Location: Downtown White Plains, on the corner of Main Street and Court Street
Come visit the White Plains Public Library at Westchester Pride 2023! We'll have a table up during the event from 11:30 a.m. – 5:00 p.m. at the corner of Main Street and Court Street. We'll have Grab & Go kits and bookmarks available for any visitors. Hope to see you there!
Future is Female Book Discussion
Monday, June 5th, 2:00 p.m.
Adults
Location: Zoom
Ellen O'Connell, White Plains resident and retired English teacher, will moderate a discussion of the #1 NYT Bestselling memoir, Broken Horses (Catalog) by Brandi Carlile, singer, songwriter, producer, and six-time Grammy winner. The work, named one of the best books of 2021 by NPR, presents, "A vulnerable document… The resilience of self, through poverty and fame, is transcendent." —Amanda Hass, NYT
Celebrate LGBTQIA+ Pride Storytime!
Saturday, June 10th at 2:00 p.m.
For Families and Children
Location: Galaxy Hall
Join us for stories, a rainbow-heart craft & a treat celebrating Pride!

Safer and Seen: Supporting Your LGBTQ+ Loved Ones with Presenter Caleb Seguin
Tuesday, June 13th at 7 pm
Location: Virtual.
REGISTER HERE.
As awareness and acceptance around gender and sexuality grows, more youth and adults are questioning, disclosing, and embracing their LGBTQ+ identities. For parents, families, and friends, this can be both joyous and stressful. Whether struggling or supportive, this presentation provides an opportunity for adult loved ones to learn more about LGBTQ+ identities and offers a space to ask tough questions.
Author Visit Storytime!
Selina Hernandez Reads I Like Pink!/¡Me gusta el color rosa!
Tuesday, June 20th at 11 am
Location: Library Plaza or Galaxy Hall (weather Location)
Selina Hernandez reads her book, I Like Pink!/¡Me gusta el color rosa! in English and Spanish as part of our month-long LGBTQIA+ Pride celebrations.

LGBTQ+ Social Justice  in Art, Music, and Media
Thursday, June 22nd at 7:00 p.m.
Location: Galaxy Hall
Join The LOFT LGBTQ+ Center's artist in residence Christina Picciano for a presentation and dialogue on LGBTQ+ Social Justice in Art, Music and Media. This workshop will help us examine our understanding of the intersection of art and music and LGBTQ+ social justice activism and how they pave the way for future representation in the media. Come celebrate our past, present and look towards the future of LGBTQ+ visibility in the arts.
Author Visit: Alex Gino Discusses Melissa
Tweens Talk Banned Books
Thursday, June 29th at 7:00 p.m.
For Grades 4-6, Families
Location: Galaxy Hall with a Virtual Presentation
To attend in person register HERE or to attend virtually register HERE.
Award-winning author Alex Gino will be speaking about their book, Melissa.This program is part of the Tweens Talk Banned Book series, which has been highlighting renowned children's titles that have been banned recently. The first eight registered participants will be given a copy of the book, and a snack will be provided at the program.
Recommended Children's Books to Celebrate Pride:
Together: A First Conversation About Love by Megan Madison, Jessica Ralli & Anne/Andy Passchier
(Preschool)
Library Catalog
Together: A First Conversation About Love is an inclusive beginner's exploration of love, relationships, and families.

Dolls and Trucks Are for Everyone
by Robb Pearlman & Eda Kaban
(Preschool)
Library Catalog
Dolls and trucks are for boys and girls and everyone, as are fabric and wood, flutes and drums, hockey and figure skating, and many more. This is a fun, playful, and important board book for parents and toddlers to read together.
Phoenix Gets Greater by Phoenix Wilson, Marty Wilson-Trudeau, and Megan Kyak-Monteith
(Preschool to 2nd Grade)
Library Catalog
Phoenix loves to play with dolls and marvel at pretty fabrics. Most of all, he loves to dance – from ballet to Pow Wow dancing. Sometimes Phoenix gets picked on and he struggles with feeling different, but his mom and brother are proud of him. With their help, Phoenix learns about Two Spirit/Niizh Manidoowag people in Anishinaabe culture and just how special he is.
Patience Patches
by Christy Mihaly & Sheryl Murray
(Preschool to 2nd Grade)
Library Catalog
Patches the puppy is patient, or at least he thinks so, but when his two moms arrive home with a baby his patience is tested.
Camp Quiltbag
by
Nicole Melleby
(Grades 4-6)
Library Catalog
Twelve-year-old Abigail (she/her/hers) is
so
excited to spend her summer at Camp QUILTBAG, an inclusive retreat for queer and trans kids. She can't wait to find a community where she can be herself–and, she hopes, admit her crush on Laura Dern to kids who will understand.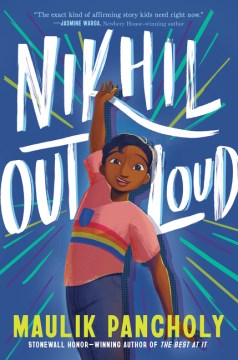 Nikhil Out Loud by Maulik Pancholy
(Grades 4-6)
Library Catalog
From the acclaimed actor and Stonewall Honor-winning author of
The Best at It
, Maulik Pancholy, comes a new middle grade novel about a gay Indian American boy who learns the power of using his voice.
Door by Door: How Sarah McBride Became America's First Openly Transgender Senator
by Meeg Pincus
(Grades 1-5)
Library Catalog
Door by Door
is a nonfiction picture book about Delaware State Senator Sarah McBride, who dreamed of making a difference as a kid and grew up to become the highest-ranking openly transgender political official in America.
A Song for the Unsung: Bayard Rustin, the Man Behind the 1963 March on Washington
by Carole Boston Weatherford, Rob Sanders &  Byron McCray
(Grades 1-5)
Library Catalog
The author of
Moses: When Harriet Tubman Led Her People to Freedom
and the author of
Pride: The Story of Harvey Milk and the Rainbow Flag
combine their talents for a singular picture book biography of Bayard Rustin, the often-overlooked gay Black man who organized the March on Washington of 1963.
YA Titles
No Boy Summer by Amy Spalding
Grades 10 and up
Library Catalog
"Lydia has always trusted her younger sister, Penny, so she has (almost) complete faith in Penny's plan for their summer. After a school year plagued with boy problems, they're both spending the break with their aunt in L.A., throwing themselves into work and forgoing boys entirely. The summer is off to a promising start as Lydia begins working at her aunt's coffee shop…But when she realizes she wants more than friendship from a coffee shop regular, she wonders if she'd technically be keeping her promise of a no-boy summer if she falls for a girl." –Booklist
Bianca Torre Is Afraid of Everything by Justine Pucella Winans
Grades 8 and up
Library Catalog
"Sixteen-year-old white lesbian Bianca Torre thought they had enough on their plate dealing with their 'full CVS-receipt-long list of fears,' a burgeoning gender identity crisis, and a massive crush on a girl they're too scared to talk to ('Fear #13: Beautiful Women'). But when the death of their conspiracy-obsessed neighbor is ruled a suicide, Bianca feels compelled to add 'solve a murder mystery' to their accounting of troubles." –Publisher's Weekly
In Deeper Waters by F.T. Lukens
Grades 9 and up
Library Catalog
"A merman and a prince who is secretly a mage fall in love on a pirate ship, and must endure a political kidnapping and repay a sea witch before they can be together." –School Library Journal
We Contain Multitudes by Sarah Henstra
Grades 9 and up
Library Catalog
"High school sophomore Jonathan and senior Adam are assigned to be correspondents by their English teacher, and it is the ensuing flood of letters that form both the novel and readers' perspective on their evolving relationship." –School Library Journal
Bruised by Tanya Boteju
Grades 10 and up
Library Catalog
"Eighteen-year-old Daya Wijesinghe is tough, just like her boxer father taught her to be. When her parents, both Sri Lankan immigrants, die in a car crash that she survives, that toughness becomes a shield as she bruises herself to cope with her grief. A year and a half after the accident, she learns about roller derby—seemingly the perfect way to get some new bruises. But skating with the Killa Honeys is appealing in ways she never expected, and Daya begins to learn that there's strength and healing to be found in softness—if only she can overcome her fear of opening up." –Publisher's Weekly
The Ghosts We Keep by Mason Deaver
Grades 7 and up
Library Catalog
"High school junior Liam Cooper's life is falling apart in the aftermath of his brother Ethan's death in a hit-and-run accident. At 18, star baseball player Ethan was the family's golden boy and nonbinary Liam feels like the leftover child…The only person who seems to understand is Ethan's best friend Marcus, but the more time they spend together, the more aware Liam becomes of how many secrets Ethan was keeping." –School Library Journal
Nothing Burns as Bright as You by Ashley Woodfolk
Grades 10 and up
Library Catalog
"Friendship evolves into a fiery, complex first love for two teen girls. This nonlinear novel in verse begins at the end, as a queer Black couple stand on opposite sides of a bridge, their relationship crumbling…In addition to exploring queerness—the narrator is attracted to other girls, her partner is bisexual—Woodfolk also writes about how girls, especially Black girls, learn that what other people think about how they look can put them in danger." –Kirkus Reviews
Lark & Kasim Start a Revolution by Kacen Callender
Grades 9 and up
Library Catalog
"Persistent online bullying causes nonbinary Lark Winters, who's 17 and self-diagnosed as neurodivergent, to feel self-conscious and lonely. Nevertheless, they believe that an active Twitter presence is the only way they'll get to publish their in-progress novel about a winged teen named Birdie. When Lark's former best friend, Black trans 17-year-old Kasim, mistakenly posts—from Lark's Twitter account—a thread about Kasim's secret crush, the tweets go viral. Lark agrees to say they wrote the thread to protect Kasim's "hardcore" image after they realize the tweets are increasing their platform, but the more popular the thread becomes, the more lies Lark must tell, and the more they stand to lose." –Publisher's Weekly
A Million to One by Adiba Jaigirdar
Grades 8 and up
Library Catalog
"Josefa, Hinnah, Emilie, and Violet do not seem like they have a lot in common at first glance, but they are all residents of a girls-only boardinghouse, and they are also all involved in an elaborate heist to steal a jewel-encrusted edition of The Rubaiyat from the unsinkable new ship, the Titanic. Josefa, the leader and organizer of the heist, recruits each girl for her specific set of skills. As time ticks down to mark the end to the fateful journey, the girls race against the clock to secure the book that will help change each of their destinies." –Booklist
The Sunbearer Trials by Aiden Thomas
Grades 7 and up
Library Catalog
"In this Mexican-inspired fantasy, Teo must unexpectedly compete against eight of Reino del Sol's brightest young Heroes and one unlucky 13-year-old in a competition to become the next Sunbearer, carrying light to all the temples of Reino del Sol and keeping away the evil Obsidian gods for another few years…Teo, a trans 17-year-old semidiós and son of the goddess of birds, competes alongside his best friend Niya, a strong daughter of an earth god; Xio, a 13-year-old child of the god of bad luck; and Aurelio, son of a fire goddess, and his former best friend turned enemy." –School Library Journal
Man O' War by Cory McCarthy
Grades 10 and up
Library Catalog
"​​Trapped in Ohio and tortured by others' expectations of 'normal,' nonbinary Irish and Lebanese American River McIntyre can no more imagine freedom than the animals at the local aquarium can imagine the ocean. That is, until an unexpected encounter propels them into the overwhelming waters of self-discovery. A man-of-war is not a jellyfish, and River McIntyre can't be the White daughter their Lebanese mother wants or please their swim coach, but they don't know why they are unhappy. When Indy Waits, a White, unapologetically queer former classmate, resurfaces during River's school field trip to the marine life theme park SeaPlanet, River confronts repressed memories and feelings by diving into the shark tank." –Kirkus Reviews
The Heartbreak Bakery by A.R. Capetta
Grades 9 and up
Library Catalog
"In the wake of being dumped by their girlfriend, 17-year-old agender baker Syd—who works at the Proud Muffin, South Austin's best queer bakery—accidentally infuses a batch of brownies with their heartbreak and confusion, causing every couple who tries them to break up soon after. Determined to fix their mistakes, Syd teams up with Harley, a transmasculine, demisexual bike delivery person, to find the brownies' victims, starting with the Proud Muffin's owners, and cure them with more baked goods. But as Syd and Harley navigate the intricacies of Austin's queer community in their quest to save relationships, they unexpectedly start one of their own and must figure out what they want from each other." –Publisher's Weekly
The Other Mother by Rachel M. Harper
All available formats
"This is one of the best books like that I've ever read. It's an intergenerational queer family saga about a group of very messy people — they make mistakes, they hurt each other, they muddle through, they're flawed and hurt and secretive and loyal."–Book Riot

A Minor Chorus by Billy-Ray Belcourt

All available formats
"In this beautiful blend of fiction, oral history, and theory, Belcourt seems to reinvent the novel even as his protagonist ponders if novels are worth writing."–
Book Riot
You Made A Fool Of Death With Your Beauty
by Akwaeke Emezi

All available formats
"Emezi's first foray into romance is a bighearted story about grief, art, healing, and queer friendship."–
Book Riot
Spear
by Nicola Griffith

All available formats
"If you think you didn't need a queer retelling of Arthurian legend in your life, think again."–
Book Riot
The Genesis of Misery by Neon Yang

All available formats
"Neon Yang's first sci-fi novel is an epic queer space opera full of warring empires and action-backed battles."–
Book Riot
Gods of Want
by K-Ming Chang

All available formats
"These stories, mostly about queer Asian American women, are eerie and beautiful, dazzling and strange."–
Book Riot
Lavender House
by Lev AC Rosen

All available formats
"When was the last time you read a murder mystery about a queer family living in an old mansion in the Bay Area in the 1950s? "
–Book Riot
Another Appalachia by Neema Avashia

All available formats
"I don't often read a memoir in a single sitting, but I read this in one long breath, and that's the best thing I can say about a book."–
Book Riot
Before We Were Trans by Kit Heyam

All available formats
"In this brilliant book of trans history, trans historian Kit Heyam shares stories of people from cultures all over the world who have lived outside of rigid gender binaries since long before the phrase "gender binary" existed."-
-Book Riot
Voice of the Fish by Lars Horn

All available formats
"This breathtaking collection of interlocking essays explores gender and transition, illness and disability, art, water, memory, and the act of reading and writing."–
Book Riot
Your Emergency Contact Has Experienced an Emergency by Chen Chen

All available formats
"Chen Chen's poetry is playful and silly and joyful in a way that feels distinctly queer."–
Book Riot